Betty Tapia
You never know how strong you are,
Until your only alternative is to be strong

Johnny Deep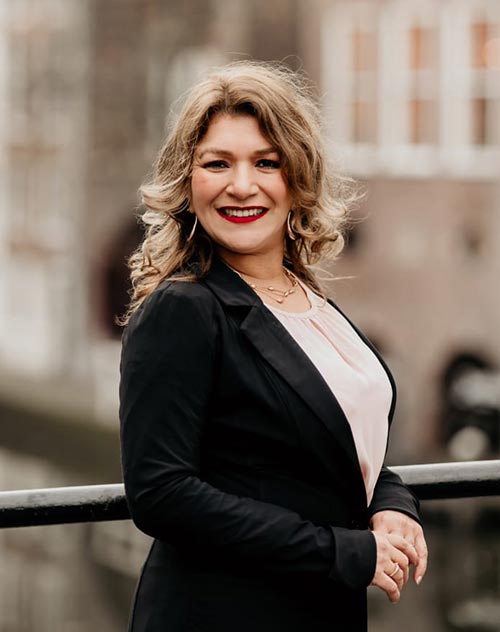 Close the past in peace
When I emigrated to Holland I didn't know anyone and didn't speak Dutch or English, just Spanish. From this moment on, I actively sought out courses, books and techniques for self-development.
Closing a cycle in peace, you can move on. With this knowledge, I rediscovered and helped myself f. I was able to leave the past behind, and therefore become aware of the infinite possibilities that the new life in Holland brought me. I am now ready to help others in their process of finding their own path and happiness.
Discover the power of positive mentality
My personal and spiritual development is characterized by a positive mindset. Thoughts are very powerful. By visualizing a vision of the future and repeating it as a mantra, these wishes came to me. My desire is to motivate, touch and inspire many people who, like me, once left their home country behind.
It is vitally important that people know how to train and strengthen their thoughts positively., Thoughts are like boomerangs, they leave our minds and come back towards us in the form of experiences, whether pleasant or unpleasant. Training people to use the unlimited power of their thoughts will make their dreams come true and be able then to walk into the future with more confidence.
Don't wait for the future to change your life, because the future is a consequence of the present

Unknown author
Work experience
Since 2009, together with my husband, I have managed my own business, the Punte jewelry store, in the heart of Utrecht.
I also work as a Personal Transformation Coach.
Completed courses
NLP Master Practitioner (Netherlands)
NLP Trainer (Spain)
Coaching & NLP (Spain)
NLP & Hypnosis (Spain)
Master in Reiki (Spain)
Healing Course (Emotional and Mental Healing Course)
Intuition and Energy
Generational Trans Tree Analysis (Spain)
Ho'oponopono.
Mindfulness.
EFT (Emotional Liberation Technique)
Metaphysics
Ultra Mind Silva Control
Therapist at UCEM (A Course in Miracles)
Be the change you want to see in the world.

Mahatma Gandhi